April 14th, 2018
Artists go to great lengths to protect the drawing paper caution is maintaining throughout the whole drawing process. I don't mind people watching me draw, but this I just have to speak out about, because it matters. Let me set this up for you.

Yesterday I'm drawing in the lobby (while waiting on my mother to finish eating dinner) under both of my hands are pieces of scrape paper. Never should human skin nor anything touch the paper. A woman stop by and gave me complements on the drawing I was doing, which I thank her. I was finish and gathering my things when she ask me if she could touch it, but before I could respond she was just about to touch my drawing and I shouted out, "NO! (as I pull her hands away from my drawing: she was about to ruin an art piece that cost to make, was labor intense and I was really happy with how it turn out; Like this could be the one) You have oils on your hands". She replied, "I don't have any oils on my hands". I tried to explain, but she didn't get it.

Others came up to complement on my drawing some walk around to view, because I had drawing upside down and few ask me if I would mind to remove the scraps papers so can see it more clearly, (caution) not once did any of these people reach out to touch it. But did ask me a lot of questions (I don't mind answering) about how I made the dress on the girl so real looking that's what that woman wanted to touch.

She ask, but didn't wait. Didn't she see the scraps of paper. Isn't common sense not to touch a piece of artwork. For all you non artists please don't ever touch someone art (when you visit a museum signs are all around no touching art in museum and sections are rope off security guards are there to see no one is breaking this golden rule keep hands off) great care is maintain in showing the artwork to the publc at a museum. Oils will get on the paper and during the printing process these fingers marks will be in the print that you trying to sale and the original art piece would also be ruin.

Artists are trying to produce a high quality product. Please do not touch someone artwork. Unless it's an interactive art which is a whole different genera.

I aim to inspire and educate about all things related to art.
April 14th, 2018
This is an emotional personal blog entry.

Some recently personal misfortunes has gotten in the way of me succeeding at this 150 percent. Sometimes I wonder a lot is it that I'm not good enough (I believe I have talent), but wonder why not selling enough. When you recently loose someone close to you (father) and you are taking care of parent who has Alzheimer's and your business is a creative you have to have the inspiration to draw, paint etc. and the ability to produce the art piece. But thoughts of is art really needed, it's not an necessary thing, but it's interesting to look at on a wall. As an artist I'm compel to create, but I also want to make a living, but is it my life situation holding me back or is it because I don't have the resources and balance to make it all work.

Art is a product that is mix up in your emotions ( this is true) as a artist we have to create and all artist out their know this to be true. Weather you do it as a hobby or business. This very thing why we need to create become our down fall if we can't get pass our life situations in order to produce, because we are the product, unless your creative piece can be set to some type of automation or turn it into some type of service. I'm curious if I had the right place, right platform, resources, time, less obligations and able to give this 150 percent what would be my results.

Am I good enough? Can I stop letting my emotions interfere? Can I stop asking myself:

WHEN DO YOU REALIZE THAT THIS IS NOT GOING TO WORK OUT?

I can't give up this dream so I'm back to creating for myself and to draw for you 😀😀.
June 15th, 2017
I don't know how these group Administrators make selection among so many but It's a gratifying feeling to be honor and features among so many talented artists here.

Thank you Administrators!
February 18th, 2017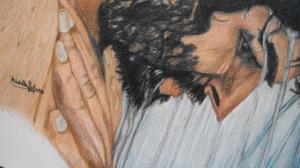 I decided to challenge myself and draw something that I normally don't do a full color pencils water portrait. I also believe that paper is an artistic tool and that its not always feasible to draw or even paint on same paper, canvas, etc. I like to combine different mediums together to achieve a certain look in my artwork. I wanted you to take a look at a close up shot of what I done. I will be posting the full portrait on my website.

Leave your comments below.
February 17th, 2017
You have a potential buyer who saw you give another person their finish work and express having a custom commission portrait from you. You answer all of their questions about size, price etc. and that you draw from their photographs. I gave her my business card and said send the photo by email or text. You never got their photo.

Time pass and you see her again and say hello she tell you that still looking for a photo.

The next time you see her you say hello and ask if she is still interested in still getting the custom portrait. She express yes, and show you the photo of two people, but there some issues the person not facing forward hard to see their features and two people are in the photo she was initially quoted for one subject portrait. You tell her that if want both you have to charge for two people portrait price. She hesitate about the change in price, but agree to it and tell me she will send a different photo.

Time pass and you see her again you say hello, and she quickly tell you that she still looking but narrow it down and after she comes back from her trip she will send you the photo. I say OK have a great time.

Time pass you see her again, but she tells you quickly again that she decided on another photo, but is there anyway that I could use the photo (one with the issues) for the portrait. I remind her that I could used combination of two photos to make the portrait, but she said, rather send me the other photo that she found when she comes back from another vacation. I say OK have a great time.

Time pass she approach you and say, "my nephew is doing what you are doing and he said, I can draw it for you auntie. He is almost finish and I will tell you how it turn out. I'm totally speechless."

Hmm What Happen? Why did she make it seem like she was interested in me doing her portrait? How long did her nephew have to wait until he receive a photo to used for the portrait?

Hmm What Happen? It is not a sure thing until It actually finish especially until you receive the photo!





January 22nd, 2017
If you ask an celebrity or artist outright if they seek this you probably wouldn't get their real feeling about this never ending desire pursuit.

Celebrities: Love to talk about themselves and their latest role
Artists: Love to talk about their art past and present

Celebrities: We are like actors and actresses trying to perfect their craft
Artists: taking classes, webinars, drawing or painting constantly

Celebrities: auditioning for the part
Artists: social media frenzy, entering contests or juries shows, art booths

Celebrities: aspiring to acquire the lead role in hope that there will be no auditioning just an phone call
Artists: aspiring to get another buyer in hope they become a collector

Celebrities: Runway to the Oscars
Artists: Magazines articles about your work; Obtaining memberships in high caliber art associations

Celebrities: Desire to be famous
Artists: Desire to be recognize as the best ______________ artist.
(Fill in the blank with your specialty)

Celebrities: Even after reaching your famous status you are waiting until the next Oscar name call
Artists: Recognize as the best ______________ artist but you working on your next series pieces for an exhibit

Celebrities and Artists: It's an internal desire to be recognize Do you crave it?
October 23rd, 2016
I'm in few specific mediums art groups where we all come together and primarily everyone is showcasing their own individual talents and hoping someone else can see it outside of the group you have joined this is call social media network (marketing). But what you really get in these groups are so much more valuable: connections, encouragement, thoughtfulness, helpful critiques, educational information and a few times heated conversational debates which are derived from a question or statement and is it any wonder why this wouldn't happen with so many people with their own strong opinions when everyone has an opinion the primary goal isn't meant to sway you. Its to get back to topic and question of the post.

Then something wonderful happens someone 98% will diffuse the issue with a apology or someone would type something funny and you find out the issue was really unrelated to the topic it was the person outside situation and how would anyone know what going on with you in that capacity.

We are all strangers over the internet coming together to share our own artistic endeavors, commemorate with our peers, and just by chance develop followers and friendships in cyberspace.
October 8th, 2016
Hi, its been awhile I not sure if anyone is reading my blog here, but if you are thanks.

I have always been drawing for as long as I can remember. But when I heard someone say this comment I just had to blog about it. It's just my opinion, but it matters.

When I was able to purchase things on my own I begin buying better artistic tools to create my artwork. I kind of develop not right away, but gradually where I started to collect them and this is a little embarrassing to reveal, but I never even would used the items. I just like collect them and having them just in case I needed to used that certain tool. Now I had the best of intention on using the item at the time of purchase, but once I arrive home I would put it away for later.

I thought this was very weird at first, but everyone has something that they collect and would become kind of obsess about it or not. You just would have to keep buying and collecting certain items even when you have enough there always will be something new to get.

That the whole premise of retail if we don't come back and purchase over and over again a lot of people would be out of business and economy will surfer. I don't collect hardly anymore for my own personal reasons, but I still like to try new artistic tools to work with every once in awhile.

It's what make us all human our eccentric abilities that we all have and our ability to not be so judgemental, but to stand in front of mirror and examine what areas of your life you are doing that might be interpret as weird, but you are OK.

Not so if weirdness is harming to yourself or others and that is a whole different matter.

Next time remember your childhood comments your parents or other elders in your family always told you. Think before you speak or if you don't have anything nice to say keep it to yourself or don't say anything at all. Words to still consider today before you speak.

It's just my opinion, but it matters.


September 5th, 2016
I love to draw and now have an interest in creating how to videos. I would always take the opportunity to draw anywhere I had time to do it. Breaks at work, waiting in long lines, on CTA bus which required a steady hand to do it. One day someone ask me could I draw a portrait of their kid how much would it be so I told her nothing (don't laugh, I was younger). I completed the portrait and she was thrill, and gave me monetary gift and some good advice. After that people started requesting me for commissions to draw portraits and through word of mouth I was getting clients. But I let it go for quote "a real job."

But your dreams should not die.

So here I'm showcasing some of my art on the internet. I specialized in drawing custom portraits in pen & Ink (pointillism), color pencil, and caricatures. I combined my interest in video and love for drawing. Take a look at video clip of demo on my dots technique for drawing a portrait in Pen & Ink.

View it on:
www.vimeo.com/Pointillism Demo Clip
www.facebook.com/Michelle-Gilmore.DrawForYou

What do you think? Leave comments below the video